New Delhi : The Union Nirmala Sitharaman, Finance Minister, will present the General (Union) Budget for 2023-24 in the Lok Sabha today (Wednesday). This will be the Prime Minister Narendra Modi government's final full budget before the general elections next year. This year's budget is significant because the country's next Lok Sabha elections are scheduled for April-May 2024. At 11 a.m., the Finance Minister will deliver her speech in Parliament. The entire world is watching this budget.
The Economic Survey 2022-23, which was presented in Parliament on Tuesday, shows that the Modi government is working on major economic reforms. These reforms could place a special emphasis on freeing the industry from licence and inspector raj. It could also include some critical administrative reform steps. These measures will be beneficial in moving India from the category of developing countries to the category of developed countries.
This, like the previous two years' general budget, will be paperless. This budget is being watched by the entire world. The Finance Minister will deliver his budget speech live on Parliament TV and Doordarshan. His YouTube channel also has a live telecast of the budget. Aside from that, the Press Information Bureau of the Government of India will stream the Budget 2023-24 live on its website. The budget will be broadcast live on the central government's social media platforms, including Facebook, Twitter, and YouTube.
05:25 PM : Health sector gets a hike of around 13 per cent
The health sector has been allocated Rs 89,155 crore in the Budget, a hike of around 13 per cent over Rs 79,145 crore allocated in 2022-23. FM said 157 new nursing colleges will be established in co-location with the existing 157 medical colleges established since 2014.
05:17 PM: Vehicle scrapping policy
Finance Secretary TV Somanathan said the outlay for the vehicle scrapping policy has exceeded Rs 1,000 crore. All central govt vehicles beyond 15 years of age will be scrapped.
05:12 PM: Taxation & online gaming
Revenue Secretary Sanjay Malhotra said taxation will now be on net winnings since the nature of online gaming is such that one plays several games in a series. TDS was previously calculated on every Rs 10,000 in winnings. Malhotra said — "Some companies were then keeping the winning lower at Rs 10,000, so we have removed that now"
05:06 PM: Finance Secy on the quality of public expenditure
Finance Secretary TV Somanathan said, "If the economy continues to grow at the pace at which it is growing, we're confident our borrowings and interest burden will continue to come down. The quality of public expenditure is increasing."
05:01 PM: CEA on pvt capital expenditure
In a press meeting following the budget announcement, Chief Economic Adviser V. Anantha Nageswaran said private capital expenditure in India has been improving every year for the past three years.
04:58 PM: 'Robust management of macroeconomics'
Finance Minister Nirmala Sitharaman said that this budget is aimed at robust management of macroeconomics. She added that prudent ways of effective expenditure, without reducing committed expenditure, are ways in which one can make money mean more.
04:56 PM: A $5 trillion economy
We are moving along to become a $5 trillion economy, said Finance Minister Nirmala Sitharaman during the post-Budget press conference.
04:53 PM: We take inflation-related steps, says FM
You have seen inflation come down, both the CPI and WPI. Action has been taken by the government, we take inflation-related steps when things develop on the ground and in response to it and that has borne results: Union Finance Minister Nirmala Sitharaman
04:51 PM: Hike in TCS on overseas travel
Government proposed to hike the TCS rate to 20 per cent from 5 per cent currently on overseas tour packages and a liberalized remittance scheme for the remittance of funds out of India. The Finance Bill, via Budget 2023-24, amended Section 206C of the Income Tax Act levying a higher Tax Collected at Source (TCS) on overseas tour programme packages.
04:45 PM: On wheat prices
The government has decided to release wheat into the market due to which the price of wheat will come down. Before the budget, we had already taken action to ease wheat prices: Union Finance Minister Nirmala Sitharaman
04:42 PM: On central govt's capital expenditure
In a press meeting following the budget announcement, Finance Secretary TV Somanathan said that the central government's capital expenditure is likely to cross budgeted levels. However, he added, states might not reach the Rs 1 lakh crore tied to specific reforms.
04:39 PM: On fiscal front
"We are respecting the glide path on fiscal deficit set earlier," FM said. The government has a fiscal deficit target of 5.9% for the fiscal ending March 31, 2024.
04:35 PM: A big leg-up to capital investment
Budget 2023 gives a big leg-up to capital investment, it also attends to MSMEs as they are the engine of growth, it sustains capital investment and also gives a push to the private sector while also giving tax reliefs to individuals and middle class: Union Finance Minister
04:33 PM: New tax regime is attractive, says FM Nirmala Sitharaman
Those who want to remain in Old can still remain there. But the new one is attractive because it gives a greater rebate. It also provides for simplified & smaller slabs, smaller lower rates of taxation & also slabs which are nicely broken down: FM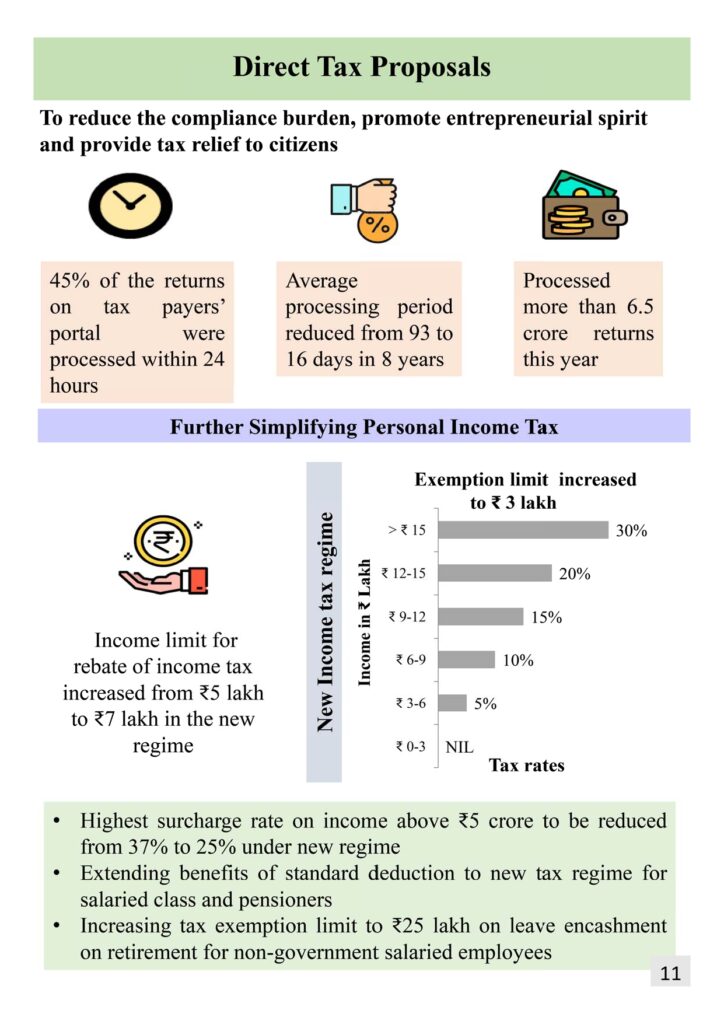 04:31 PM: There's a lot of increase in agriculture credit availability, says FM
Rs 20 lakhs are being made available for agriculture credit. Also, a sub-scheme under PM Matsya Sampada Yojana makes sure that people living in coastal areas are going to benefit from it: Union FM Nirmala Sitharaman
04:23 PM: 'Unleashing digital economy in various walks of life'
We are looking at a futuristic fintech sector, people will be trained through Industrial Revolution 4.0, and we are trying to unleash the digital economy in various walks of life: Union Finance Minister Nirmala Sitharaman
04:18 PM: Making new taxation regime more attractive
The new taxation regime has now got greater incentives, and attractions so that people can unhesitatingly move from the old to the new. We are not compelling anyone. But the new one is now attractive as it gives greater rebates, said Union Finance Minister in her post Budget address.
04:17 PM: Four emphasis points of the budget
The four emphasis points of this budget are on empowering women, action plan for tourism, initiatives for Vishvakarmas (artisans) and green growth: Finance Minister Nirmala Sitharaman
04:16 PM: Total investment by power PSUs to rise nearly 15 pc in FY24
Government has proposed to increase the total investment by eight state-owned power companies by about 15 per cent to Rs 60,805.22 crore for the financial year 2023-24. This compares to a revised estimate of Rs 52,878.08 crore for the current financial year.
04:08 PM: FM begins her post Budget presser
04:01 PM: Govt expects 17 per cent higher dividend from RBI, PSU banks in FY24
Government is expecting 17 per cent higher dividend at Rs 48,000 crore from RBI, PSBs and financial institutions in 2023-24. The government aims to garner Rs 40,953 crore from RBI and public sector financial institutions in current financial year ending March. This is much lower compared to the Budget Estimate of Rs 73,948 crore for FY23.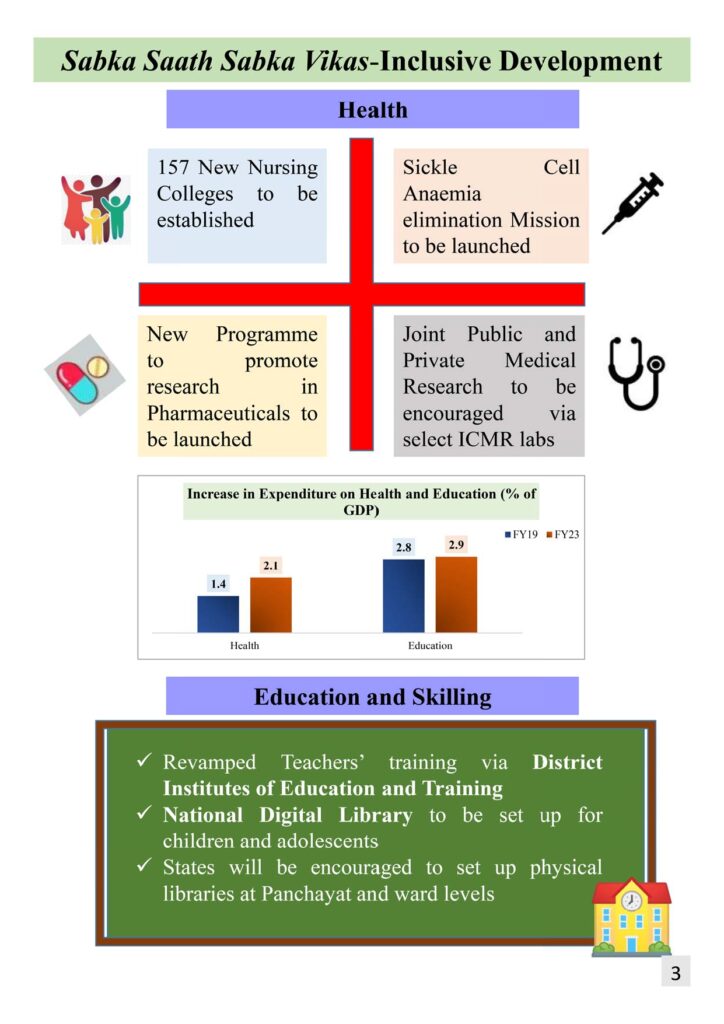 03:52 PM: Fiscal deficit of states
States will be allowed a fiscal deficit of 3.5 per cent of GSDP of which 0.5 per cent will be tied to power sector reforms, announced FM Sitharaman.
03:48 PM: Reclaiming of shares and dividends
For investors to reclaim unclaimed shares and unpaid dividends from the Investor Education and Protection Fund Authority with ease, an integrated IT portal will be established.
03:42 PM: Capacity building in the securities market
In order to build the capacity of functionaries and professionals in the securities market, SEBI will be empowered to develop, regulate, maintain and enforce norms and standards for education in the National Institute of Securities Markets and to recognize award of degrees, diplomas and certificates.
03:34 PM: Skill India Digital Platform
The digital ecosystem for skilling will be further expanded with the launch of a unified Skill India Digital platform for:
Enabling demand-based formal skilling
Linking with employers including MSMEs
Facilitating access to entrepreneurship schemes
03:25 PM: Data Embassy
For countries looking for digital continuity solutions, the government will facilitate the setting up of their Data Embassies in GIFT IFSC.
03:17 PM: Push for coastal shipping
Govt will promote coastal shipping as the energy-efficient and lower-cost mode of transport, both for passengers and freight, through PPP mode with viability gap funding.
03:14 PM: GOBARdhan scheme
500 new 'waste to wealth' plants under GOBARdhan (Galvanizing Organic Bio-Agro Resources Dhan) scheme will be established. These will include 200 compressed biogas (CBG) plants, including 75 plants in urban areas, and 300 community or cluster-based plants at total investment of Rs 10,000 crore.
03:08 PM: PM-PRANAM
"PM Programme for Restoration, Awareness, Nourishment, and Amelioration of Mother Earth" will be launched to incentivize States and Union Territories to promote alternative fertilizers and balanced use of chemical fertilizers.
03:05 PM: Green Credit Programme
A Green Credit Programme will be notified under the Environment (Protection) Act. This will incentivize environmentally sustainable and responsive actions by companies, individuals and local bodies, and help mobilize additional resources for such activities.
02:59 PM: For enhancing ease of doing business
More than 39,000 compliances have been reduced and more than 3,400 legal provisions have been decriminalized. For furthering the trust-based governance, govt introduced the Jan Vishwas Bill to amend 42 Central Acts.
02:56 PM: Mission Karmayogi
Under Mission Karmayogi, Centre, States and UTs are making and implementing capacity-building plans for civil servants. The government also launched an integrated online training platform, iGOT Karmayogi, to provide continuous learning opportunities for lakhs of government employees to upgrade their skills and facilitate a people-centric approach.
02:50 PM: E-Courts project
For efficient administration, Phase-3 of the E-Courts project will be launched with an outlay of Rs 7,000 crore.
2:46 PM: Aim to eliminate sickle cell anemia by 2047 :FM said that the central government aims to eliminate sickle cell anemia by 2047, and a mission will soon be launched in this regard. The mission will create awareness among the common people with universal screening of seven crore people in the age group of 0 to 40 years in the tribal areas and counselling through collaborative efforts of central ministries and state governments.
02:35 PM:Bharat Shared Repository of Inscriptions, Amrit Dharohar scheme for wetlands
Bharat Shared Repository of Inscriptions will be set up in a digital epigraphy museum with the digitisation of one lakh ancient inscriptions in the first stage. Amrit Dharohar scheme will be implemented over the next three years to encourage the optimal use of wetlands and enhance biodiversity.
02:31 PM: Karnataka gets Rs 5,300 cr aid for Upper Bhadra project
Centre would provide Rs 5,300 crore assistance for the Upper Bhadra project in Karnataka. In budget speech, FM said: "In the drought prone central regions of Karnataka, a central assistance of Rs 5,300 crore will be given for the Upper Bhadra Project."
02:26 PM: Divestment target pegged at Rs 51k crore
The government expects to raise Rs 51,000 crore from stake sales in various state-run companies. The government had budgeted to raise Rs 65,000 crore through divestments in FY23.
2:18 PM: PM Modi on training & support to 'Vishvakarma'.Those toiling traditionally through their hands for the country, 'Vishvakarma' are the creators of this country. For the first time scheme related to training & support for 'Vishvakarma' has been brought in the budget: PM Narendra Modi.
02:16 PM: First budget of Amrit Kaal will build a strong foundation for building a developed India, says PM
This budget will fulfil dreams of aspirational society including poor people, middle-class people, farmers: PM Narendra Modi on Union Budget 2023
02:11 PM: A look at Defence budget.Defence budget was increased to Rs 5.94 lakh crore for 2023-24 from last year's allocation of Rs 5.25 lakh crore.
A total of Rs 1.62 lakh crore has been set aside for capital expenditure
It includes purchasing new weapons, aircraft, warships and other military hardware.
For 2022-23, the budgetary allocation for capital outlay was Rs 1.52 lakh crore but the revised estimate showed the expenditure at Rs 1.50 lakh crore.
02:09 PM: Govt doubles deposit limit for Senior Citizen Savings Scheme
FM proposed to double the deposit limit for Senior Citizen Savings Scheme to Rs 30 lakh and Monthly Income Account Scheme to Rs 9 lakh.
02:05 PM: New savings scheme for women with 7.5% fixed interest rate for 2 years
FM announced a 'Mahila Samman Saving Certificate' with a fixed interest rate of 7.5 per cent for two years. The deposit can be made in the name of a woman or a girl child. The maximum deposit amount has been kept at Rs 2 lakh and the scheme will have a partial withdrawal facility as well.
02:03 PM: Import duty on silver dore, bars, articles increased
Government proposed an increase in the import duty on silver dore, bars and articles with a view to promoting domestic manufacturing. She also said that customs duties on articles made from dore and bars of gold and platinum has been increased.

01:51 PM : What gets costlier
Taxes on cigarettes hiked by 16%
Basic import duty on compounded rubber increased to 25% from 10%
Basic customs duty hiked on articles made from gold bars
Customs duty on kitchen electric chimney increased to 15% from 7.5%
Fully imported luxury cars and EVs to cost more as govt raises custom duty from 60 pc to 70 pc in Budget
01:50 PM: : What gets cheaper
Customs duty cut on import of certain inputs will make mobile phones cheaper
Customs duty on parts of open cells of TV panels cut to 2.5%
Basic customs duty on seeds used in manufacturing of lab-grown diamonds to be reduced
Customs duty on shrimp feed to be reduced to promote exports
01:47 PM: Govt cuts funding on rural jobs scheme
The government cut back the spending on the rural jobs guarantee scheme for the next fiscal year to 600 billion rupees ($7.34 billion). The allocation is lower than the revised 894 billion rupees spending outlay for 2022/23, and the smallest since 2017/18.Under the Mahatma Gandhi National Rural Employment Guarantee Act, introduced over 15 years ago, citizens can enroll for work such as building roads, digging wells, or creating other rural infrastructure and receive a minimum wage for at least 100 days each year.
01:42 PM: 'Budget ticks all the expected boxes'
"The Union Budget ticks all the expected boxes viz. pump priming the economy with 33% higher CapEx allocation; pushing consumption by encouraging taxpayers to adopt the new tax regime with lower taxes and consume the additional money in hand rather than using savings to lower the tax burden in the old regime; and sticking to the fiscal consolidation path with the fiscal deficit target being brought down to 5.9%. The highest tax rate on personal income has also been brought down to address concerns on flight of HNIs," said Ranen Banerjee – Partner and Leader, Economic Advisory Services, PwC India.
01:32 PM: Five big things you can't miss
FM announced an increase in the income tax rebate limit from Rs 5 lakh to Rs 7 lakh stating that the new tax regime will now be the default tax regime. She also proposed to change the tax structure in this regime by reducing the number of tax slabs to 5 and increasing the tax exemption limit to Rs 3 lakh.
FM proposed to raise the capital expenditure target by 33% to Rs. 10 lakh crore for the next fiscal year starting April 1, which is 3.3% of the country's economic output.
Finance minister Nirmala Sitharaman provided an outlay of Rs 35,000 crore to achieve energy transition and net zero objectives and listed green growth among seven priorities of the government.
Government said that a capital outlay of Rs 2.4 lakh crore has been provided for railways, which is highest-ever allocation since 2013-14. Finance minister Nirmala Sitharaman said that the capital outlay was fixed for 2023-24.
Government will target a budget deficit of 5.9% of GDP for 2023/24, compared to 6.4% for the current fiscal year.
01:23 PM: For better targeting of tax concessions
For better targeting of tax concessions and exemptions, FM proposed to cap deduction from capital gains on investment in residential house under sections 54 and 54F to Rs 10 crore. Another proposal is to limit income tax exemption from proceeds of insurance policies with very high value.
01:19 PM: Other announcements
Extension of period of tax benefits to funds relocating to IFSC, GIFT City till 31.03.2025;
Decriminalisation under section 276A of the Income Tax Act
Allowing carry forward of losses on strategic disinvestment including that of IDBI Bank
Providing EEE status to Agniveer Fund.
01:16 PM: On leave encashments
Lastly, the limit of Rs 3 lakh for tax exemption on leave encashment on the retirement of non-government salaried employees was last fixed in the year 2002, when the highest basic pay in the government was Rs 30,000/-pm. In line with the increase in government salaries, I am proposing to increase this limit to Rs 25 lakh.
01:13 PM: Reducing the highest surcharge rate
FM proposed to reduce the highest surcharge rate from 37 per cent to 25 per cent in the new tax regime. This would result in reduction of the maximum tax rate to 39 per cent.
01:08 PM: More on tax front
For the salaried class and the pensioners including family pensioners, FM extended the benefit of the standard deduction to the new tax regime. Each salaried person with an income of Rs 15.5 lakh or more will thus stand to benefit by Rs 52,500.
01:06 PM:Sensex surges 1,200 points, Nifty near 17,900
01:04 PM: FM explains the 'relief' to all tax payers in the new regime
"An individual with an annual income of Rs 9 lakh will be required to pay only Rs 45,000/-. This is only 5 per cent of his or her income. It is a reduction of 25 per cent on what he or she is required to pay now, ie, Rs 60,000/-. Similarly, an individual with an income of Rs 15 lakh would be required to pay only Rs 1.5 lakh or 10 per cent of his or her income, a reduction of 20 per cent from the existing liability of Rs 1,87,500/." — FM explained in her Budget speech.
01:00 PM: How much India stands to lose after tax tweaks
India will lose Rs. 35,000 crores of net tax revenue after the Union Budget tweaked direct and indirect taxes to provide relief to the middle-income group, Finance Minister Nirmala Sitharaman said today."Revenue of about Rs. 38,000 crore – Rs. 37,000 crore in direct taxes and Rs. 1,000 crore in indirect taxes – will be forgone while revenue of about Rs. 3,000 crore will be additionally mobilized. Thus, the total revenue forgone is about Rs. 35,000 crore annually," Sitharaman said while announcing the Union Budget for the next fiscal year that starts April 1.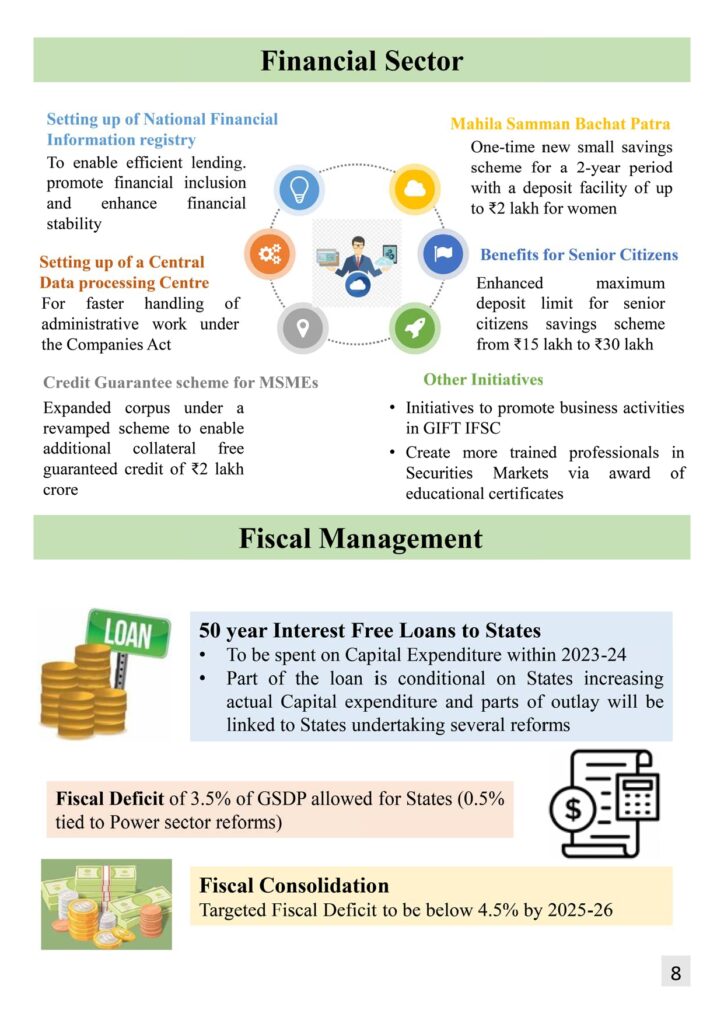 12:49 PM: An Entity DigiLocker will be set up for use by MSMEs, large business and charitable trusts. This will be towards storing and sharing documents online securely, whenever needed, with various authorities, regulators, banks and other business entities.
12:47 PM: Lab Grown Diamonds (LGD) is a technology-and innovation-driven emerging sector with high employment potential. These environment-friendly diamonds which have optically and chemically the same properties as natural diamonds. To encourage indigenous production of LGD seeds and machines and to reduce import dependency, a research and development grant will be provided to one of the IITs for five years. 75. To reduce the cost of production, a proposal to review the custom duty rate on LGD seeds will be indicated in Part B of the speech.
12:38 PM:The new tax regime will now be the default tax regime, but citizens can still avail of benefits under old tax regime on opt-out basis Finance Minister Nirmala Sitharaman
12:29 PM: Revised tax slabs under new tax regime
Under new tax regime, income of Rs 0-3 lakh is nil.
Income above Rs 3 lakh and up to Rs 6 lakh to be taxed at 5% under new regime.
Income of above Rs 6 lakh and up to Rs 9 lakh to be taxed at 10% under new regime.
Income above Rs 12 lakh and up to Rs 15 lakh to be taxed at 20% under new regime.
Income above Rs 15 lakh to be taxed at Rs 30%.
12:25 PM: Income rebate limit increased to Rs 7 lakh from Rs 5 lakh in new tax regime
12:22 PM: Average processing time for income tax returns reduced from 93 days to 16 days
The government intends to roll out next-gen common IT Return forms and strengthen grievance redressal mechanism: FM Sitharaman
12:22 PM : Five major announcements for Income tax coming…
12:19 PM : Cigarettes to get costlier as Budget proposes 16% hike in duty
12:18 PM : Customs duty : The govt proposed Customs duty exemptions on the import of capital goods and machinery required for lithium-ion batteries. The government also proposes to increase customs duty on silver to align with duty on gold and platinum.
12:15 PM : I reiterate my intention to bring the fiscal deficit below 4.5% of GDP by 2025-26 : FM
12:13 PM : 100 labs for developing apps using 5G services.100 labs for developing apps using 5G services will be set up in engineering institutions. To realise new range of opportunities, business models & employment potential, labs will cover among others, apps like Smart Classrooms, Precision Farming, Intelligent Transports Systems & Healthcare: FM
12:07 PM : FM Sitharaman fixes fiscal deficit for 2023-24 at 5.9%
12:07 PM : National Financial Information Registry : The government will set up a National Financial Information Registry to serve as a central repository of financial and ancillary information, said Finance Minister Nirmala Sitharaman.
12:05 PM : Bio input resource centres : Over the next 3 years, one crore farmers will get assistance to adopt natural farming. 10,000 bio input resource centres will be set up: FM Nirmala Sitharaman
12:04 PM : National Data Governance Policy: To unleash Innovation and research by Startups and Academia, a National Data Governance Policy will be brought out. This will enable access to anonymized data: FM Nirmala Sitharaman
12:01 PM : Revamped credit guarantee scheme for MSMEs : Revamped credit guarantee scheme will take effect from April 1, 2023, through the infusion of Rs 9,000 crore in the corpus. This will enable additional collateral-free credit of Rs 2 lakh crore to MSMEs.

11:59 AM: Push for tourism : 50 tourist destinations will be selected through challenge mode to be developed as a whole package for domestic and international tourism: FM Nirmala Sitharaman
11:58 AM: Pradhan Mantri Kaushal Vikas Yojana 4.0 .The government will launch Pradhan Mantri Kaushal Vikas Yojana 4.0, said FM Nirmala Sitharaman. In order to skill the youth for international opportunities, 30 Skill India International Centres will be set up across different States, she added.
11:55 AM :National Hydrogen Mission : FM allocated Rs 19,700 crore to the National Hydrogen Mission. The objective is to reach hydrogen production capacity of 5 metric million tonnes by 2030.
11:51 AM : Rs 35,000 crores priority capital for energy transition : Battery storage to get viability gap funding: FM Nirmala Sitharaman
11:47 AM: Digilocker- One stop KYC maintenance system: For business establishments required to have Permanent Account Number, the PAN will be used as a common identifier for all Digital Systems of specified government agencies: FM Nirmala Sitharaman
11:46 AM: Pushing for transport infra projects: 50 additional airports, heliports, water aerodromes, and advanced landing zones to be revitalised. 100 critical transport infra projects for steel, ports, fertiliser, coal, foodgrain sectors have been identified with an investment of Rs75,000 crore including Rs 15,000 crore from private sources.
11:42 AM: 50-year interest free loan to State governments extended for one more year
11:41 AM : Booster for Railways: Capital outlay of Rs 2.40 lakh crore will be provided for railways; 9x over FY14
11:40 AM : Capital investment outlay increased by 33% .Capital investment outlay being increased by 33% to Rs 10 lakh crores, which would be 3.3% of GDP, said Finance Minister Nirmala Sitharaman in her budget speech.
11:36 AM : The outlay for PM Awaas Yojana being enhanced by 66% to over Rs 79,000 crores, says FM
11:35 AM: Focus on education .Eklavaya Model Residential Schools -in the next 3 years the Centre will recruit 38,800 teachers and support staff for 740 schools serving 3.5 lakh tribal students: FM Nirmala Sitharaman
11:34 AM:PM Primitive Vulnerable Tribal Groups Mission.To improve social-economic condition of the Particularly Tribal Groups, PMPBTG Development mission will be launched, to saturate PBTG habitations with basic facilities. Rs 15,000 cr to be made available to implement scheme in next 3 years: FM Nirmala Sitharaman
11:31 AM: National Digital Library.The government proposes to set up a national digital library for children and adolescents to make up for the learning loss during the pandemic, said Finance Minister Nirmala Sitharaman.
11:29 AM: Push for fisheries.The government will launch a sub-scheme under PM Matsya Sampada Yojana with an outlay of Rs 6,000 crore to further enable those involved in fisheries, said Finance Minister Nirmala Sitharaman.
11:28 AM: Agri push: The government has also initiated computerisation for 63,000 primary agricultural credit societies with an investment of Rs 2,516 crore.
11:24 AM: Assistance for traditional artisans and craftspeople
PM Vishwa Karma Kaushal Samman – package of assistance for traditional artisans and craftspeople has been conceptualized, will enable them to improve quality, scale and reach of their products, integrating with MSME value chain
11:22 AM:Encouraging agritech startups
An agriculture accelerator fund to encourage agritech startups by young entrepreneurs in rural areas. Fund will focus on bringing innovative solutions for challenges faced by farmers.
11:20 AM: Atmanirbhar Clean Plant Programme
The government will launch the Atmanirbhar Clean Plant Programme to improve availability of disease-free quality planting material for high-value horticultural crops at an outlay of Rs 2,200 crore: Finance Minister Nirmala Sitharaman
11:19 AM: Seven priorities of the budget
Inclusive development
Reaching the last mile
Infra & investment
Unleashing the potential
Green growth
Youth power
Financial sector
11:17 AM:This budget is focused on job creation, upliftment of youth, says FM.We made significant progress in sustainable goals. Also achieved many milestones in Swachh Bharat, PM Suraksha Bima Yojana, Direct benefit transfer, and Jan Dhan accounts: FM Sitharaman
11:15 AM:FM on food security.Continuing our commitment to food security, we're implementing from Jan. 1, 2023, a scheme to supply free food grain to all Antyodaya and priority households for one year under PM Garib Kalyan Ann Yojana," said Finance Minister Nirmala Sitharaman.
11:00 AM : Union Finance Minister Nirmala Sitharaman presented the Union Budget in the Lok Sabha at 11 am on Wednesday. At this time she is giving the budget speech. Earlier, the Economic Affairs Committee of the Union Cabinet chaired by Prime Minister Narendra Modi on Wednesday approved the budget.
India's economy on the right track: Sitharaman
Union Finance Minister Nirmala Sitharaman said in her budget speech in the Lok Sabha on Wednesday that the country's economy is on the right track. Despite the economic slowdown in the world, India's growth rate remained seven percent. This budget is the first budget of Amrit Kaal.