Ahmedabad : Voting for the second phase of 93 seats in the Gujarat Legislative Assembly began at 8 am today. These include 16 assembly seats in Ahmedabad.
Prime Minister Narendra Modi has appealed to the public to vote by tweeting. Modi tweeted that I will cast my vote in Ahmedabad at around 9 am.
The 93 assembly seats to be voted on today include 14 districts including Ahmedabad, Vadodara and Gandhinagar. It also includes Chief Minister Bhupendra Patel's Ghatlodiya, Patidar leader Hardik Patel's Viramgam seat and Alpesh Thakor's Gandhinagar South seat.

Gujarat Election 2022 : Latest Updates
15:07 PM: Former Indian cricketers Yusuf Pathan and Irfan Pathan along with their family members cast their votes.
In the second phase of the Gujarat Assembly elections, an average voter turnout of 50.51 per cent was recorded in 14 districts till 3 pm in the state.
District-wise, the highest voter turnout was recorded in Banaskantha at 55.52 per cent and the lowest in Ahmedabad at 44.67 per cent. 46.17 per cent polling was recorded in Dahod and 52 per cent in Gandhinagar. On the other hand, according to the assembly seat, the maximum voting was recorded in Tharad seat of Banaskantha district at 66.39 percent. On the other hand, the lowest voter turnout was recorded at 39.30 per cent in Ellisbridge seat of Ahmedabad.
Phase-2 of Gujarat Assembly polls: 19.17 pc voter turnout till 11 am.
12:39 PM : I appeal to people to step go to polling stations and vote. Choose whoever you want but you will be able to demand answers from political leaders only if you vote. I expect AAP to win 51 plus out of 89 seats in the first phase & 52 plus seats in the second phase: Isudan Gadhvi
AAP's CM candidate Isudan Gadhvi casts his vote in Ahmedabad
11:34 AM : PM Modi's mother casts her vote in Gandhinagar
Gujaratis listen to everyone, but it is in their nature to accept what is true: Prime Minister Modi after voting
Prime Minister Narendra Modi voted at a polling station in Gujarat during the second phase of the Assembly elections, saying that the people of the state listen to everyone, but it is in their nature to accept what is true. He also congratulated the Election Commission on conducting the polls in a "spectacular manner" and elevating India's democracy throughout the world.
He claimed that voters in Gujarat, Himachal Pradesh, and Delhi enthusiastically celebrated "the festival of democracy."
10:16 AM: Union Home Minister Amit Shah casts his vote.
09:45 AM : 4.75% voter turnout recorded till 9 am, in the second phase of Gujarat Elections 2022.
09:35 AM : BJP has maintained law and order in Gujarat, want Gujaratis to vote for us: Hardik Patel
Hardik Patel cast his vote for the second phase of Gujarat Assembly Polls at Polling Booth 264 in Chandranagar Primary School.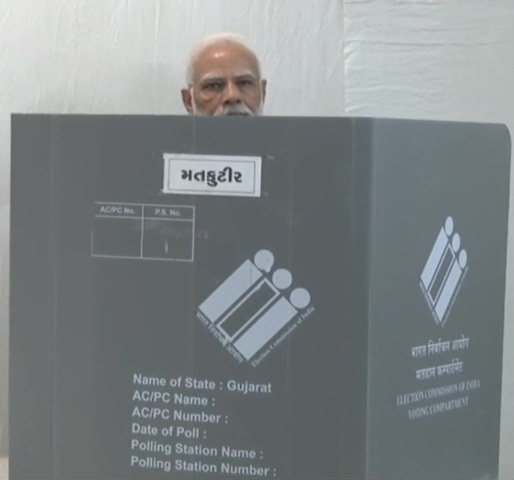 09:26 AM : Prime Minister Narendra Modi casts his vote for the second phase of Gujarat Assembly elections at Nishan Public school, Ranip